 The FHU Approach
We believe the work of each of your team members has an impact on fulfilling your mission. Through FHU, we help propel churches forward in their communications skills and strategies by teaching their team how to "catch more." Using a variety of tools, we partner with your church to provide professional training that is valuable, memorable and fun. You'll learn best practices in communications and how to apply them in your church's setting.
TeamSpeak Course
Ready to get everyone on the same page?
TeamSpeak is a six-lesson video and activity based series designed to help all church staff members and leaders grow their communications skill and strategies. The course will help your team find a common approach and language when it comes to communicating in today's culture. The first two sessions focus on foundational communications principles and their link to your organization and messaging. The next three sessions focus on skill building in the areas of content development, online presence and design basics. The course wraps up with a team training session on assessing and improving your guest experience. To help customize your course, an FHU instructor will personally coach your onsite facilitator to guide your team through the series.
The TeamSpeak Learning Bundle Includes...
Six main session videos (download preferred, DVD upon request) and a short orientation video. Session topics include: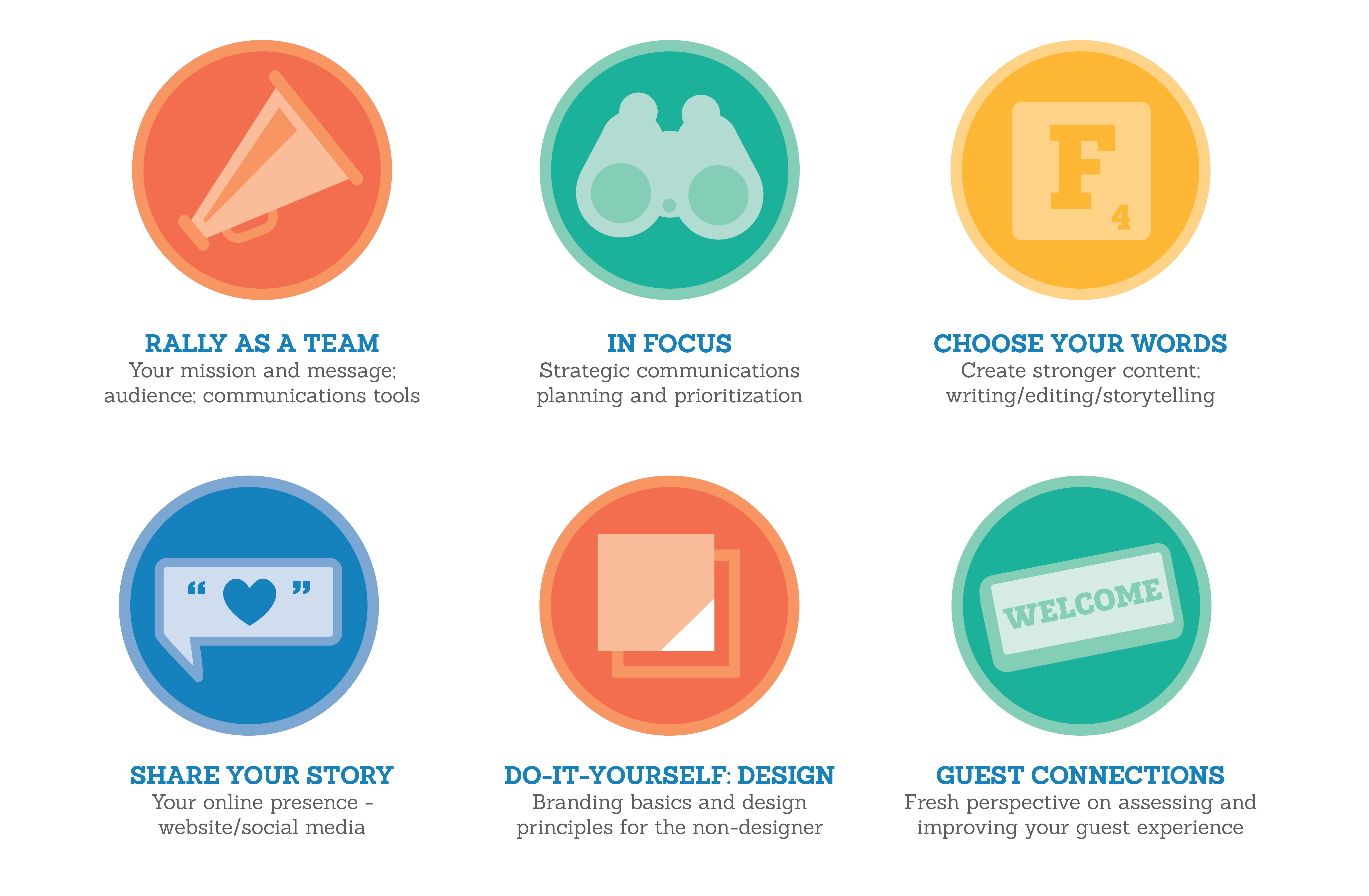 TeamSpeak orientation package

On Target: A pre-launch survey to help us learn more about your team

Downloadables with team building exercises

Facilitator guide and personal coaching pass to help customize sessions (2.5 hours)

Communications planning worksheets and guides

Customizable certificate of completion for each participant
TeamSpeak will help your church...
Experience better internal communications, evidenced by team members who are engaged, working together and knowledgeable about your church mission and goals.
Create an environment where your congregation can better understand your church's mission and goals and grow in their faith through study and service.
Share your story with your community, partners and friends to illustrate how your church is making a difference and how they can join your journey.
Know how to create stronger connections through your everyday communications.
FAQs
How Does It Work?
During each session, your team will view three short video segments and participate in guided activities and discussion time, led by your onsite facilitator. Each session also includes follow-up resources to help you take next steps beyond the lesson.
When do the sessions take place?
You decide! Your FHU instructor will help you schedule your sessions and access the materials so you can work at your own pace.
How long will it take to complete the course?
Each session takes 45 minutes to an hour to complete so they could fit within your regular staff meetings or operate as stand-alone sessions. Customize your class days and times, completing the course in as little as six weeks or spacing it out over three months.
Is it really essential that our entire team attend?
Whenever possible, we recommend that your entire team participate. TeamSpeak is about learning and applying communications principles together, diving into important conversations and building relationships with one another.