Your Ultimate Guide to Hybrid Church Comm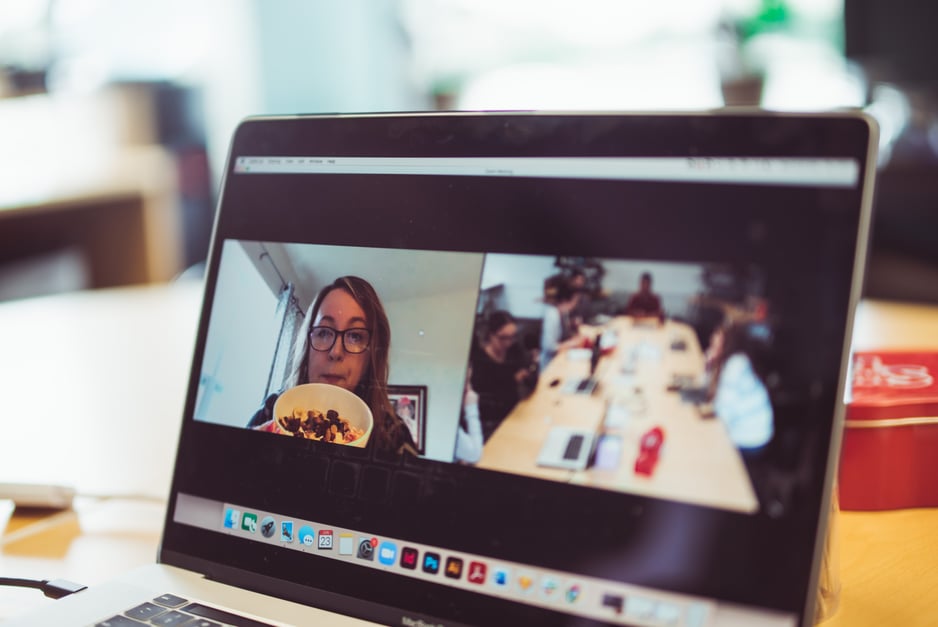 The Ultimate Guide to Hybrid Church Comm
You've likely heard the term Hybrid Church. In the constant shifts we've all had to make in the last year, this is one subject we've had to come face-to-face with, perhaps for the first time.
If your church is like most churches, you probably had to double down on some form of digital ministry during the COVID-19 stay-at-home orders in 2020. As a result of this (or maybe completely separately!), your church may be feeling the call to reach people in more ways than you have in the past.
Whatever the reason, we know what that transition process can look like. It can look confusing, overwhelming, and sometimes downright scary to make the leap into a new type of ministry. Especially digital ministry. But don't be worried! This guide is a great first step. We are going to take you beyond just "getting butts in seats," online or in-person, and into the hard (but rewarding) work of making connections that build relationships, ultimately connecting people to the One who matters most: Jesus.
Looking for something specific?
Read it laterShare this with your team
Fill out the form and we'll send you a PDF copy of this guide. It'll be in your inbox in a matter of minutes and you can read through it whenever you have the time. We also recommend highlighting sections/tips that stand out to you. It helps with prioritizing next steps.
Get "Your Ultimate Guide to Hybrid Church"
So… What is the Hybrid Church Model?
You may have heard the term Hybrid Church before, but in case you haven't, we want to make sure we start out with a solid definition. According to Merriam-Webster, "Hybrid" refers to a combination of two or more components that work together in harmony. In our 17+ years of getting to know churches and the forms that ministry takes, we've arrived at two defining characteristics that make a church a Hybrid Church:
A Hybrid Church is focused on BOTH physical and digital ministry.

You may have read that a bit quickly, but we really want to emphasize the digital ministry side. Your church may stream services online but still not have a robust digital ministry. Carey Nieuwhof has said that church leaders who understand the Hybrid model "see digital not as an 'accommodation,' but as both real ministry and an abundant opportunity." We are talking about more than a digital service. We are talking about a digital ministry that is equal in value to your physical ministry.


A Hybrid Church's measure of success, for both physical and digital ministry, is relationship-building through connections.

Across the board, we firmly believe that genuine connections to people are what build relationships and make a church successful. A Hybrid Church carries this perspective over to digital ministry in a way that helps them see real effectiveness in connecting with the people they want to reach.


"If 90% of your staff time or more is going to the one hour people are at service on Sunday, you are not doing the Hybrid Church model."

- Shayla Kenworthy, Fishhook Partner & Director of Business Development


How do I know if my church should consider being a Hybrid Church?
We believe firmly that the Hybrid Church model offers many benefits that a traditional church can't. However, we don't believe that every church is called to be a Hybrid Church. If your church isn't called to adopt this model, that's alright! Whether your church is hybrid or not, we all have the same mission - to connect people to Jesus. We also hope you don't stop reading here. The tips we will explore through this guide are valuable for anyone hoping to build a more robust digital ministry. Even if you don't want to go "fully hybrid," we hope you stick around because every church does need some form of digital presence!
With that caveat out of the way, let's review some of the reasons why the Hybrid Church model is beneficial:
By having both a digital and physical ministry, you aren't constrained by the size of your building.


Hybrid Church allows you to minister all week rather than on prescribed days and times.


People are able to connect with your church when and how it fits best with their lives.


Flexibility to have a meaningful presence where people are spending their time.


This last one may come as a surprise, but the biggest benefit we see to Hybrid Church is that it focuses more on connecting people to people and less on connecting people to experiences or a physical building.
We know at this stage all this can feel pretty overwhelming, especially if this is the first time you are learning about Hybrid Church. But remember: You don't have to compete with other churches. If you are a small church, you don't have to feel like you're "limited" if you have fewer resources! Whatever size or kind of church you lead in, we want your church's unique story to play out online just like it does in-person. There will be some churches that do different aspects of ministry better than others, but it is NEVER a competition. You need to focus on finding the distinct value your church brings and let that shine throughout every aspect of your ministry.
---

PAUSE AND PONDER
Before moving on, we want to encourage you to pause to think about your ministry with fresh eyes and big dreams. Imagine the real people you already know who are participating with your church's digital ministry. Consider these questions:
How do they connect with people?
Do they have a way to pray for someone else in the church or ask for prayer for themselves?
How do they find a real person to connect with?
When you are ready, let's move on to the next section!


---
Let's Talk Guest Experience (in BOTH the Physical and Digital Realms of Ministry)
When was the last time you were the new person at church? It's probably been a while. But maybe you remember it feeling a little awkward? Maybe you recall trying to sneak out unnoticed? We are going to take a deep look into your guest experience and how to identify what areas of your digital and physical space need special attention.
Why does guest experience matter?
When we say "guest experience," we mean the intentional hospitality and value you bring to your guests. Your guests may be people who are visiting you for the first time, have been around for a while, or may even be long-time attendees. Intentionally evaluating and planning your guest experience matters because, if we're honest, this is ultimately what determines whether someone sticks around and becomes a part of your church community or fades away and chooses not to return.
If you utilize the Hybrid Church model, you probably have some form of an in-person guest experience already set up (parking team, greeters, etc.). While we are still going to talk about the guest experience in your physical space, we are going to look a bit deeper at the guest experience in your digital space. Our focus needs to shift from thinking of the guest experience of only happening at our physical location to it happening 24/7. Hybrid Church or not, you need to take a look at your digital space as most guests will never walk through your front door without first looking at your website or social media.
Take the time to identify your "guest zones"
As we start thinking critically about opportunities for your digital and physical guest experiences, we first want to highlight the most important guest zone. That zone is made up of the people associated with your church. The best way to provide a positive guest experience is if your people are intentional and welcoming.


"Your guest experience will thrive or die on human connections made."

- Aimee Cottle, Fishhook Director of Marketing
Physical Guest Zones
As we walk through some of the physical guest zones, you could almost pull up a blueprint of your space and start marking out these areas. We want to analyze if it is easy for a new person to navigate these spaces and if we are anticipating our guests' needs.
Arrival/Parking - Is it easy for a guest to find parking? Can they find the main entrance easily?


Main Entrance/Greeters - When they first walk in, is there someone greeting them?


Building Navigation - Is it easy to figure out where they need to go? Is it easy to find someone to help direct them?


Worship Space - How are they guided in this space? Is it easy to find seats?


Kids Area - Is dropping off your kids an easy experience? Can the parents rest easy knowing their kids are in good hands?


Guest Services/Next Steps - When they get ready to leave, is there someone who has made a human connection with them? Will they walk away feeling like they belong here?
You may want to walk through your space as if you were coming for the first time. Or you may want to visit other churches and see what you notice about them doing well or not so well. Getting a fresh look at how people feel after visiting your space is the best place to start! A major goal whenever someone attends is that they make a human connection and feel like they belong.
Digital Guest Zones
These can be a bit harder to identify, but it is well worth the effort. As we said earlier, most people won't visit you in-person until they have visited you online. This makes your digital guest experience that much more important because it is probably the first impression people will get about your church! As we look at the zones on our list, we want to consider how they bring value to our guests and make them feel seen and cared for.
Public Social Media Platforms - This is any public platform, not your niche groups that would take some time for them to connect with. Do your posts require a response? Are you quick to message back if someone has a question?


Website Homepage - The main page of your website

should be guest-focused

. Since most people get their first impression of a church from their digital presence, you need to be sure your homepage is built with them in mind. You'll want to think of this as the "front door" of your digital ministry. What information will a new person need to know? What will help them feel connected to a person?


Guest Section / Plan Your Visit on Website - If you have a specific section just for guests, be sure it is easily accessible from the homepage. What on this page will make them feel cared for and welcomed?


Content Spaces (Blog, Resources, Videos, etc…) - Just like your website homepage, this needs to be guest-focused and is actually your biggest opportunity for trust-building. Are topics well organized so users can easily find what they are looking for? Does your content steer clear of insider language?
(PRO TIP: While content is important to build trust, the value comes when the content facilitates interaction.)
Make a Guest Experience Plan
Now that you've taken the time to identify your guest experience zones, it's time to make a plan!
Step 1: Start with your church's story, values, and DNA.
Our goal is that who your church is can really shine through! When people feel like they know you, they will want to get more involved. Ask yourself: What do you hope guests feel when they interact with your church? What do you hope they think and feel after engaging with your content/website/physical space? What do you hope they experience?
Step 2: Know your guests.
You won't be able to anticipate your guests' needs if you don't know who they are. You'll likely need to focus on different areas if your guests are primarily parents as opposed to college students. Ask yourself: Who are they? What needs do they have? What challenges do they have? What value do you want to bring to their lives?
Step 3: Prepare for your guests.
Once you've anticipated guests' needs, it's time to think through each Guest Zone and ask: How can we bring our guest value here? How can we meet a need here? What questions might they have here and how can we answer them? How can we connect our guests with a real person here? What do you hope they do next? How does this help them connect with someone from your church?
Step 4: Don't let them disappear. (Say goodbye and follow-up!)
Don't let people "walk out" virtually or physically without saying goodbye. This helps make sure they were able to make a connection with a real person. In addition, you should also have a follow-up plan to move the connection beyond that one interaction.
---
PAUSE AND PONDER
We hope this has been a helpful exercise as you consider how you're prioritizing the guest experience at your church! We know the value of the guest experience is both simple and biblical. When genuine love is at the center of how you care for your community, your guests will experience it in practical ways and in how they feel as they interact with your ministry.
So take a moment to consider:
What stood out to you from this section?
What do you feel is your biggest opportunity as a ministry here?
Would you say your church currently operates more inward-focused or outward-focused?
---
What You NEED on Your Church Website Today
Your website can be an amazing tool for ministry, but it can also be a barrier. Do you know which one your website is operating as? If your church is called to the Hybrid Church model, then your website is likely the place where your digital ministry happens the most! Let's get super practical about how to effectively bring your church website into the day and age we're living in:
Hybrid churches recognize the importance of how people use websites today.
This has been a trend for almost a decade now, but people don't just go to websites for information anymore. They are going to websites to get resources and make connections with a community. Sure, people still need to be able to find your address, email, and physical service times, but even more, they are looking to engage with content, get resources, and receive value from your church website.
Hardly anyone will walk through the front door of your church without taking a look at your website first. For Hybrid Churches, a website isn't only the information center for the ministry; it's a hub for building connections with people.
This actually applies to social media as well. There are some people who will use your social presence to vet your church before they engage with your website or walk through your front doors. So be sure you don't skip the step of evaluating the demographic of people in your community and updating every channel where they are likely to seek value from your church.


"Your church website should be a hub, a center for valuable resources. And if your website is not that in 2021, it is going to deter people from seeing that you will have a value in their life."

- Aimee Cottle, Fishhook Director of Marketing

If your church has a livestream that is central to your digital strategy, now is the perfect time to ask why that is.
Most churches view livestreams and posting their services online after the physical services time as identical to having a digital ministry. However, merely having your physical ministry service available is not the same thing as having a full Hybrid Church digital ministry. When we think about Hybrid Churches specifically, a livestream can actually give your digital ministry the feeling that people watching are outsiders looking in. Instead, we recommend your digital ministry should prioritize specific content created or filmed for the digital format.
Let's Break it Down...
Let's cover the obvious thing now:
Your church website does need to have an authentic picture of your physical experiences. This is not the most important thing for a Hybrid Church, but this is usually the first thing people think of so we wanted to mention it right away. It's valuable to capture what your physical ministry offers and, without shaming those who engage with your digital ministry, show people what they won't want to miss!
Alright, now that we've acknowledged that, the most important things you need to have on your website are value-based resources and content that builds engagement. Those things could be blog posts, videos, podcasts, discussions, and more.
Consider some of the following:
What are the topics that really matter to your audience?
What issues are impacting the community you are in?
Are there any struggles or challenges that are common in your congregation?
If you have staff or volunteers who are passionate about a certain topic, start by having them partner with you to address those topics and track how much people engage and connect with them.
Engage your congregation online and ask them directly what topics they would like to know more about!
As you begin to think about the kinds of resources and content you need to have on your website, remember that the ultimate purpose of all this is to build connections. If you are unsure if you are creating the right content, start by asking yourself, "How does this connect people to our church and make them feel valued?"
"A website is just a website, unless it's combined with a strategy to reach people with the content and a strategy to build and nurture relationships with people."

- Shayla Kenworthy, Fishhook Partner & Director of Business Development
---
PAUSE AND PONDER
Let's start by evaluating your church website:
Ready to take a first step? Pull out your phone (or a pen and paper if you are old school! 😉) and start looking through every page of your website. Keep track of the pages that are purely informational and pages that add immediate value to your audience. (If you're writing blogs, don't worry about counting those here!
Once you've completed that, what's the ratio of informational pages to immediate value pages? If your informational pages were more than one out of every three pages (or more than 33%), you need to start shifting your website to be more value-driven!
Update your pages for authenticity - Update your copy, content, and photos if you need to!
Update your messaging to focus on your audience - Be sure you are sharing a specific message with a specific group of people. Add value everywhere you can!
Update your website to prioritize next steps - People should always know how to connect with you more and take the next step. Every page on your website should have a call to action.
We know this isn't easy work, but it's work that is well worth doing and you'll see the fruit in people's lives as they connect more with your ministry and more to Jesus. If you are looking for examples of churches that have updated their websites well, we recommend checking out a few that we have worked with:
White Water Crossing
Grace Church
---
How to Use Digital Tools to Bring Everyday Value
When it comes to digital ministry and Hybrid Church, we have some strong feelings about it. In fact, they are so strong that we are going to make a bold claim. Are you ready?
You can't be a Hybrid Church if you're not using digital tools for weekday ministry.
When you think about it, this should come as no surprise, but if you need more convincing, let's take a look at why we believe this so strongly.


Digital Tools: Then & Now
In the past, church has primarily been a place where you go to be fed one day of the week and then you go out during the week to practice your faith primarily on your own. In the traditional church model, digital tools, like social media, have taken a back seat. These are things that churches would use when they had some extra time.
Fast forward to today, and churches are seeing two outcomes as a result of going through a time when they could only do church digitally:
Many people, not surprisingly, interacted with physical churches less in 2020 than they ever have before.


The second is that, even though they interacted with physical church less, many people's faith actually grew more during this time.
If you're wondering how that happened, we've got the answer! This happened because people took personal responsibility for their faith (because they had to) and because the digital tools to grow their faith were in abundance.
Take a moment to think about that.
When have we ever had such great resources to engage with during our daily life and walk with Christ than we did in 2020?
However, now that physical ministry is back, the question for the Hybrid Church becomes, "How do we continue to bring everyday value to equip people to grow in their faith?"


The Other 6 Days of the Week
To truly become a Hybrid Church requires a shift away from focusing the bulk of our energy on having a physical church experience on Sunday or Saturday that gets you fed and fired up to live out your faith the rest of the week.
Instead, ministry is happening EVERY day of the week.
This shift is a chance to walk with your congregation—to pastor them, to help them grow spiritually, to encourage them, to pray with them, to be in God's Word with them, to connect them to their faith through Christ. This is so valuable! It's not about promoting your church or having the most followers. It's about equipping and bringing value to your people as they walk through their daily life.


"In the past, it was 'how can we reach the most people with the least amount of effort?' and now it's 'how can we, perhaps, reach fewer people in a more personal, impactful way that multiplies?'"

- Leah Norton, Fishhook Managing Partner

This value is created through meaningful content combined with human connections. How? Content can be shared SO many ways: On social media, live videos, produced videos, images, stories, groups to engage with people, emails, blogs, and texting, to name a few! This is a multi-channel strategy to cohesively interact with people and build relationships.
Ready? Let's do this!
So let's talk about a few ways to start using digital tools effectively:
1) Crunch the numbers
Many churches leave over 85% of the week untouched by ministry. It's still important for you to invest in the 15% that occurs over the weekend, but don't leave those hours of opportunity on the table.
2) Reallocate time
Where can you shift some staff and volunteers to help dedicate time to weekday church? Make a list of these people (we're talking about a lot of time in the week, so it should be pretty long), and start talking to them about helping with the other six days of the week.
3) Decide what your audience needs
You can't just produce content and assume it automatically brings value to people. You have to be intentional. Ask: Who is our church striving to reach? Who is our church currently reaching? What needs or challenges do they have?
4) Repurpose content
You don't need to create new content from scratch every time. Your church already has content from past sermons, kids' ministry, Bible studies, and more that you can use for your digital ministry.
5) Be real people
Don't feel pressured to be someone that you are not or to over produce everything you put out there! People want to connect with real people. It will come through if you're trying to be something you are not.
---



PAUSE AND PONDER
How do we continue to bring everyday value to equip people to grow in their faith?
We know it can be difficult to get started. So while we still want you to go through the steps above, our challenge to you is to start with just one. What is one way you can bring value to your audience using digital tools this week?
Once you've answered that question, get out there and get started! You can do this!


---
Structuring Your Staff and Volunteer Teams for Hybrid Church
If you've read to this point and are thinking, "There's no way I can do all of this on my own!" you are absolutely right! You are going to need a team of people around you to help effectively navigate both the physical ministry and digital ministry.
Do you remember the days of paper bulletins? A church used to have one person that performed many tasks in the church and that paper bulletin was one of the biggest communications pieces our churches produced. Fast-forward to today and there are more methods to reach people than you could ever hope to master! Just trying to create a plan can trigger anxiety galore!
We are going to help you take a deep breath and discover who your church needs on the team to execute your Hybrid Church ministry plan.
Let's start with your staff.


Building Your Staff Team in a Hybrid Church
There may be a church that exists with the unlimited budget to hire a dream team of creative people to fully staff their communications and marketing strategies, but the reality is most churches (and even businesses) can't do that! So while we can name all sorts of people that will be helpful to have on your staff, if you don't know their strategic purpose or how they add to your ministry, we can guarantee it won't do you a bit of good!
Our topic may be on how to staff your team in a hybrid context, but figuring out who to hire isn't actually the first step. The first step is to make a plan using a few questions...
Let's start at the top:
1) Who is setting the direction for your ministry overall and the communication strategy at your church?
Your church may have a leadership team that makes these kinds of decisions, or you may even have someone who is in charge of your digital communication like a Digital Pastor or even a Creative Director. Regardless of where your staffing is at currently, you need to first know what your strategy is and, if you have someone in the role of Creative Director or Communications Director, they should now be present at the meetings where strategies are being set, and even be part of the leadership team moving forward.
"Communications is not just an implementation aspect of your church anymore. It's strategy and its leadership."

- Aimee Cottle, Fishhook Director of Marketing
Once you know what you are trying to accomplish with your marketing and communications, you can ask:
2) Who is leading the execution of that strategy?
These are going to be our Creative Directors, Content Managers, Digital Directors, and Hospitality/Guest Services people. These are the ones who will utilize every tool in their belt and make sure your strategies are being brought to life.
And finally, you need to identify:
3) Who is responsible for implementing these strategies?
Do you have full-time or part-time people on staff who will be implementing these or will it be a team of volunteers or freelancers?
Usually, this group contains your Project Managers, Writers, Visual/Graphic Designers, Videographers, Photographers, Digital/Social Media/Marketing Specialists, Analytics/ Data Support, Programmers, and more!
Remember… every church is different. Don't think that if you don't have a full-time person in each of these roles (or a person in those roles at all), then you aren't doing communications and marketing well. It's very rare that a church has someone in each of these roles.
I've answered those questions. Now how do I start finding the people to fill those roles?
Before you start posting job descriptions to hire on a bunch of new staff, we recognize that for many, if not most churches, you probably already have some people who could help you make progress on your communications strategies.
We believe that a church should aim for at least 2-4 full-time communications staff or the part-time equivalent of those hours. But if your church can't start there or needs to make do with what you have, we recommend only looking at what you need in the next three months.
What strategies does your church need to implement in the next three months? Of those strategies, which one is your highest priority? What gaps do you have preventing you from accomplishing your goals in these months?
We rarely want to discourage you from hiring people for your communications and marketing team, but if you're still defining clear direction and strategies for the future of your ministry, hiring talented people will rarely fix that problem.


Leveraging Volunteers to Build Your Team in a Hybrid Church
If you are limited from hiring new staff, take a hard look at the gifted people you have at your church already. Is there someone who could volunteer 2 hours per week who is a good writer, photographer, or graphic designer? Are there people already on staff who have a particular skill you could use?
The best place to start if you want to lay the base for your digital ministry is to find people who can help you produce content. These may be writers, photographers, and others who can bring your digital ministry to life. In the world of Hybrid Church and digital ministry, content is your connector. Content is the thing that helps people take spiritual next steps. Without content, you don't have connection.
The Qualities of a Good Digital Volunteer:
The first characteristic that likely comes to your mind when you think of a good digital volunteer is probably their experience and skills with digital tools. But surprisingly, this isn't #1 on the list! Here's what makes a good digital volunteer:
1) A good digital volunteer is someone who naturally connects with people and builds relationships.
You are going to need people who know how to be a "people person." Someone who naturally has a presence that invites people in and makes them feel welcome. You'll need both dreamers and doers in your digital volunteer team, but you should start by finding people who can help people get connected.
2) A good digital volunteer is someone who is flexible and self-motivated.
If you are just starting to build your digital ministry, or even if you have been structuring it for a while, you likely don't have a step-by-step manual on how a volunteer should perform the role you are looking for. This means you'll need people who can take on a role and run with whatever you give them.
3) A good digital volunteer is someone who understands and is passionate about your digital ministry.
Your digital ministry is helping shift the mindset that ministry happens just during your physical service to a ministry that happens seven days a week. A good digital volunteer not only understands the Hybrid Church model, but also is passionate and creative about the possibility of bringing hope, support, and ministry throughout the other six days of the week.
Ok… Where do we find these people?
You may be tempted to put together a few job titles and send out an email blast to ask for volunteers. Whatever you do, don't hit the send button on that email! You need to be intentional about who you recruit for your digital volunteer team.
Here's how we recommend you start the process:
1) Make a list of the natural connectors and relationship-builders in your congregation.
You know the person who makes sure to welcome everyone at your physical service? Is there someone who is always making sure people feel welcomed online? Put these people on your list! Don't forget to get input from your other ministry leaders to be sure you don't miss anyone.
2) Narrow the list by who has the necessary skills for the role you are trying to fill.
For example, if the role you are trying to fill requires using Facebook, you need to eliminate the people who do not have that skill. Remember: not every role will need special skills, but if you need compelling content for Instagram, you'll definitely need someone with photography or design experience, or someone who has an eye for that type of media.
3) Get creative about where you look for help.
If you are struggling to find people for your list, it may be time to start thinking outside the box. Who is bringing the most value to your digital ministry now? Is there someone who is helping build community by posting good questions and encouraging others? Are you near a college where you could offer a digital internship? What are out-of-the-box ways you can engage new people in the ministry?
"Getting started, set the tone of excellence, figure out where you are headed, and tweak as you go. The momentum draws others in."

- Jamie Shafer, Fishhook Account Director
Whew! This can be a little overwhelming, so we want to remind you of this: When all else fails, fall back on asking yourself, "What does our community need that will add value to their lives?" If you focus on finding volunteers who can help you bring value to your community, you'll start to build the momentum necessary to connect people into the life of your church.
---

PAUSE AND PONDER
What stood out to you most from this section? What are perspective shifts or next steps you need to take?


---
Mission & Vision: Let's Remember What Hasn't Changed
To wrap up this guide, we want to end on the most important element to get right. If you've been making a to-do list as you've been going through this guide, don't throw out the list! But before you move forward, you need to put this at the very top of your list: mission and vision.
Start with Mission
Before you look to update your church's website or try out the latest and greatest social media tool, return to your church's mission. You can have all the fancy tools and be up-to-date on the latest trends, but none of that will have an impact if it is not rooted in your mission.
The "how" of church may be changing in some big ways, but the "why" of church is still the same. The "why" should remain the same for each of us, even if our mission statements vary, to connect people to Jesus. If it's been a while, why don't you take the time to read your church's mission statement again? Let that serve as fuel to your fire as you start checking off items on your to-do list of "how" we do church.
Lead with Vision
Before you take all this to your team or church, you'll first need to cast the vision. One of the examples we like to give here at Fishhook is the transition away from the paper bulletin. Sure, you could merely inform your church that you're going to make the switch from paper to an e-bulletin or maybe even an email, but that doesn't cast the vision! If instead you were to say, "A value of our church is that people are able to connect with us where they are at and in a way that is most convenient for them. In light of this, we've noticed that people prefer to engage with us online through their phones and at times the paper bulletin can actually hinder connection."
Now that is leading with vision!
How can you cast the vision for why being a Hybrid Church will help you accomplish the mission God has set for your unique church?
Consider who you are called to reach and what they need.
Ask yourself: "How can we help the people we are called to reach learn and grow?"
Talk about it with leadership and key staff members first, and then your entire church!
---

So What's Next?
We want you to walk away feeling refreshed, encouraged, and ignited for all that God has done and is going to do in your church as you move toward the Hybrid Church model! And we hope this guide has given you some clear direction and fresh ideas to move in this direction.
Here are a few next steps:
First, download the PDF of this guide and go through it with your team. We want you to get the most value from this as possible. Grab the printable version and use it as a conversation starter with your team!


Start a conversation with our team! There's nothing we love more than supporting churches. That's literally why we exist. We'd love to answer any questions or chat through any aspects of this guide with you and your church!


Join us for some more learning on Facebook, Instagram, and our podcast! We'd love to continue sharing some things we're learning as we support churches. Take a quick moment to follow us on Instagram, Facebook (we record our podcast live here most weeks!), and by listening to our podcast, Making Church Work.
You and your work matter so much. Thank you for what you do. Thank you for where you're going. We are cheering you on!
Read it laterGet a PDF Version
Fill out the form and we'll send you a PDF copy of this guide. It'll be in your inbox in a matter of minutes and you can read through it whenever you have the time. We also recommend highlighting sections/tips that stand out to you. It helps with prioritizing next steps.
Happy Website-ing!
Get "Your Ultimate Guide to Hybrid Church"