Join us as we take an honest look at the ways our churches handle the topic of giving with this 5-part Church Giving Audit guest-series from Kindrid.
Kindrid unleashes generosity by equipping churches with inspirational and actionable content and Smart Giving—a complete text, in-app, and online giving solution.
Qualities of a Dynamic Giving Page
So far, our audit has asked:
Today, we're looking at the way we communicate giving on our church websites.

Your church may have a simple, intuitive giving solution, but if you aren't intentional about how you showcase giving options on your website, you may lose people in a maze of pages and search results, ultimately frustrating their desire to be generous.
Clear communication and clean design are key to giving pages that get the job done. We serve over 1,300 churches, and that offers us an inside look at some of the best giving pages out there from a giver's perspective. Here are three of our favorites:
Why we love it
"GIVE ONLINE" has a place of prominence in the homepage navigation
Theologically rooted in gratitude
Commitment to transparency by detailing FAQs
Clean and simple design with clear instructions
Besides their calming color palette (who could be stressed about giving when they're gazing at a sunset?!) and bold font choice, we love 7 Hills Church's giving page for its clear navigation and informative layout. It starts by anchoring our giving in Scripture and then logically flows into the ways to give at 7 Hills.
Encouraging greater giving at your church starts with something simple: be clear about the ways people can give! 7 Hills does an awesome job of this by using three icons to indicate the three digital ways people can give.

Finally, 7 Hills heads off questions before they turn into real concerns with a detailed FAQ. By using expanding answers, your eye doesn't have to wade through unnecessary words. If you are wondering about something, simply click on a question to expand it, one answer at a time.
Why we love it
"GIVE" has a place of prominence in the homepage navigation
Reflects generosity as part of the church's DNA
Commitment to transparency by detailing FAQs
Clean and simple design with clear instructions
Concise copy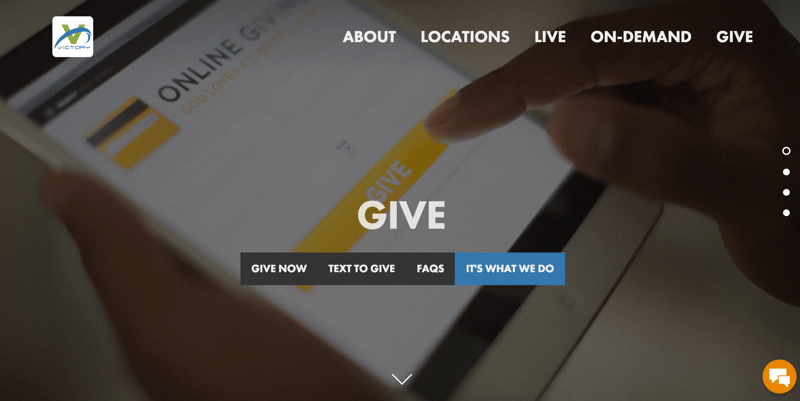 By setting the page up so that the top navigation menu takes you directly to the section that fits your search, Victory Church avoids dragging givers through information they don't need. We LOVE Victory Church's commitment to inspirational and informative generosity teaching. By linking to a sermon series on generosity that both explains why giving is part of the church's DNA and individual people's journeys on the road to generosity, those who are hesitant about giving understand exactly why the Bible calls us to give and what it looks like to be generous.

And of course, once we get to their Smart Giving section, our eyes are full of hearts.
Besides the succinct instructions about how to give by text including an instructional video, Victory Church gives you the option of adding their giving number to your contacts. Do that and BOOM! You're ready to give (and give a week from now!) in under 30 seconds. It's the thoughtful attention to detail and keen eye toward the giver's experience that make Victory Church's giving page so awesome.

Similar to 7 Hills, Victory Church also provides its givers with an FAQ section, which is, as we explained above, enormously helpful in dispelling concerns before they morph into inaction.
Why we love it
"GIVE" has a place of prominence in the homepage navigation
Copy is concise and doesn't lose people in the details
Lakeshore ties the generosity of its congregation back to the impact it makes on the church and community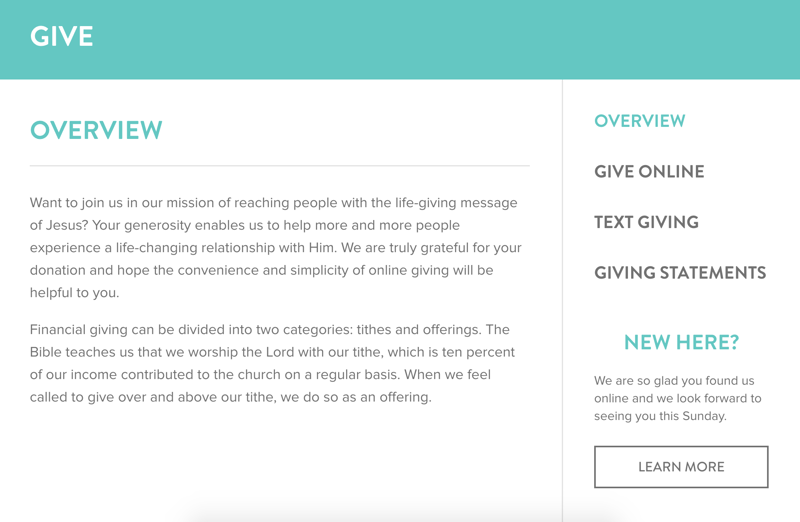 We love that Lakeshore clearly defines and differentiates tithes and offerings—two principles that can feel vague and interchangeable. And, even more impressive, they do so in two sentences.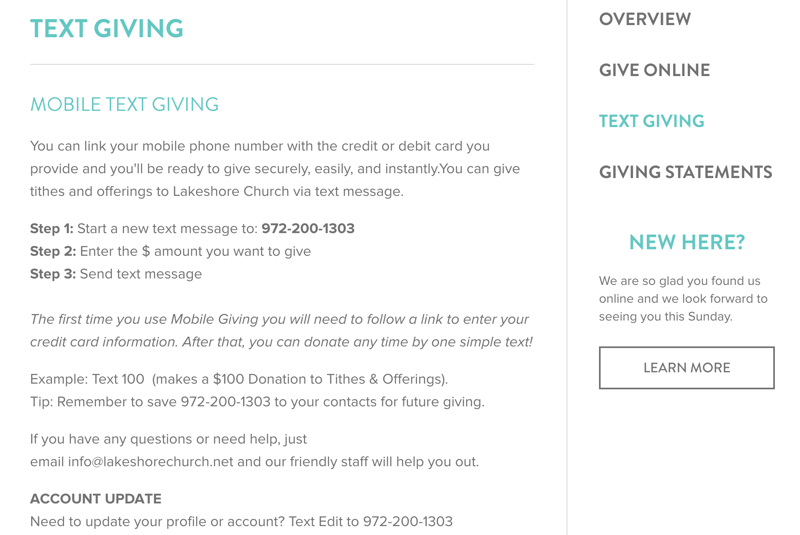 Lakeshore also encourages their givers to keep track of their giving by linking them to giving statements. It's a helpful and informative addition!
---
So, how does your church's giving page stack up? Are you using clear and concise copy? Does "giving" have a place of prominence on your homepage?

Kindrid would love to chat with your church about how you can improve your congregation's giving experience from start to finish! Schedule a time to talk with them here!
Author
Kindrid - Smart Giving